Inspired by the formation of The Great Taste Trail, The Gentle Cycling Company was the first cycle tour company to be formed in sunny Nelson. Since 2009, thousands of cyclists have made use of our knowledge, support and inspiration to explore the Top of the South Island on two wheels. Our passion and commitment towards providing bespoke cycle tours to suit the needs of your group makes for peace of mind travel at your own pace.
When you visit us at The Gentle Cycling Company, you will be welcomed by a family who are passionate about Nelson. For us, travelling by bike is the best way to really explore and experience the many varied pleasures to be found in the top of the South!
Meet the Gentle Cycling Team
The Whitaker family
Chocolate lovers
We love adventures, great and small. From surfing, soccer and snowboarding to tramping, trampolining and trail riding, we love the great outdoors.
We also love Whittaker's chocolate, but sadly, have not found a family link to the delicious brand!
Summer gets very busy with cycle tours, but we make sure to take time to connect with the diverse landscapes around Nelson / Tasman whenever we can. We're happy to advise our customers of the many wonderful opportunities in this stunning part of the world.
Bernie
The boss
Bernie is the organised member of the team. She works tirelessly to make sure that everybody is happy and prepared for the adventures ahead.
Being surrounded by nature keeps Bernie grounded and she will encourage you to take your time whilst on your tour. Her mantra is not to rush, but to regularly stop, breathe and take in the wonders of the world around you. An accomplished cyclist and triathlete in a former life, Bernie now prefers extolling the virtues of life in the steady lane.
Chris
The chatter box
Bernie's right-hand man is a former Science teacher who loves to connect with people and enrich their riding experience.
From bike packing to beer tours, Chris loves cycling in its many forms and is always happy to assist and advise on places to explore.
Felix Laufcotter
Fix it Felix
We are very lucky to have Felix as our "on-call" bike mechanic. Felix's bike workshop is a pristine wonder-land of bike tools, and his attention to detail is legendary. This is no doubt one of the main reasons he has been the bike mechanic with the NZ Paracycling team in Italy in August 2018. Felix is a treasure. Enough said!
Will
Junior mechanic / bike valet
The next generation inspired by cycling and adventuring on two wheels
Our bikes can handle a bit of off road cycling and get muddy on their adventures. Will is good with a bucket of soapy water and a sponge. He's used to getting dirty!
Lily
Junior mechanic / bike valet / smoothie maker
A rocket on two wheels and with great attention to detail, bikes are always left spotless after a clean by Lily.
Smoothies are Lily's speciality, and they keep the wheels turning when we need a refreshment break.
Lily loves to take breaks on bike rides to climb trees and build huts. There are some great places to build or add to huts and teepee's along the Great Taste Trail.

Proud to be Climate Positive
and Kaitiaki (guardians)
As a Climate Positive business and the Kaitiaki Promise made by The Gentle Cycling Company, we are evolving and adapting as best we can to minimise the impacts of our tours. Choosing to offset 120% of the carbon emitted by our vehicles and electricity consumption, the wonderful people at Ekos are rewilding Mohua, an indigenous forest in Golden Bay. We're proud to support this and many other great initiatives to improve the biodiversity and resilience of our natural habitats.
Sustainability means more to us than simply paying for trees to be planted. We are continually reviewing what, why and how we do things to reduce our use of the world's precious resources and to reuse whatever we can in innovative ways day to day. Furthermore, we take part in community planting, weeding and pest eradication programs and regularly clear up plastic and glass waste around the Great Taste Trail, coast and bush, recycling / upcycling whatever we can.
Social sustainability is also of great importance to us. Read here to find out about some of the recent initiatives we have been involved in to get people cycling, gain independence and educated for safer roads.
See below about the Zero Carbon Weekender, an amazing eco-friendly holiday that we are proud to be a part of.
The Zero Carbon Weekender
A joint Nelson Tasman Tourism initiative
We are proud to be part of the Zero Carbon Weekender – your eco-friendly holiday in the Nelson-Tasman region.
It is a joint initiative created by Nelson Regional Development Agency involving like-minded businesses that are Zero Carbon or Climate Positive. That means we are regularly audited to measure, reduce and offset our emissions. What's more, when you book this itinerary through Nelson Regional Development Agency, they'll help tailor it, especially for you and will offset your travel to, from and around the region. Check out the Seven Sharp feature video below and click on the button to book  your spot!

What our adventurers say
Our tours are perfect for groups too...
Hi Bernie and Chris,

When it comes to customer service and communication l can't thank you enough for ALL of your support and l can say we had nothing but fun in the sun.
From your preparation and very interactive care factor on day 1 we felt well looked after.
Contacting us daily and ensuring we knew what we were doing came as a blessing because my dad, 78 years old and I'm certainly not the most in shape cyclist, we certainly had a well-rounded, organised and fun filled ride with each other thanks to you and your Team.

Memories that will last a lifetime.

  

Accommodation and scenery on our journey was well and truly past my expectations.We both cannot thank you enough and still talk about how well we were treated.
Bernie, if only l had 30 more staff members of your passion and commitment in my business. Truly inspiring and such a pleasure to have met you.

Epic!!! Such a life changing experience to have done this with my father but could not thank you enough for your efforts.Chur/Thanks

Aaron and Doug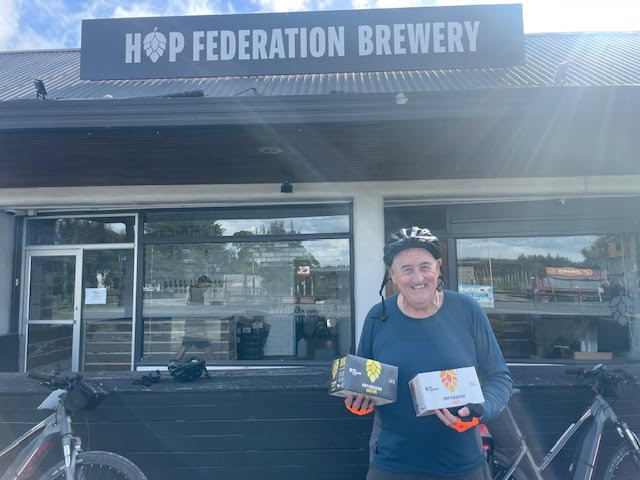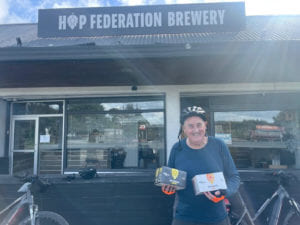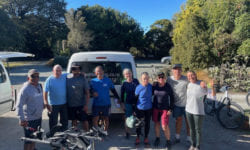 The highlight for the Mt. Pirongia Papier Mache Club's long weekend in Nelson, was the bike tour. Superbly hosted and organised by The Gentle Cycling Company, we enjoyed the hospitality of the different venues, and the scenery offered by the great bike trails. We give thanks.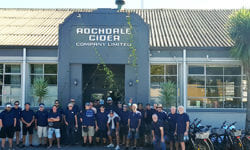 We have just finished our 5 day guided Cycle Tour with Chris & Bernie from Gentle Cycling. There were 16 in our Group & we have had the most amazing time with Chris as our guide. Once introduced to Chris & Bernie they never forgot a name & everything was 100% perfect!! Our accommodation was all split up due to the size of our group & we were all thrilled with our accommodation!! We would thoroughly recommend Gentle Cycling!!