Giving Back To Our Community
Winter sees fewer cyclists coming to Nelson for cycling adventures despite the abundance of beautiful, cool, sunny days. As a result, our team at The Gentle Cycling Company take time to review our processes and refine how we operate as a business. We also enjoy getting involved in some important projects. The main focus is to get more people out cycling both here in Nelson, and around the globe.
Pedal To Empower
We recently organised and led a community cycle ride during the weekend of world bicycle day (Saturday, June 3rd 2023). Pedal to Empower is a worldwide initiative, designed to help women and girls in rural parts of the world. Enabling more people to reach critical services and attend job training or school. Funds donated at our event and many more around the world collectively raised over $700,000 USD during the weekend. To date, hundreds of thousands of bikes have been provided to empower people so they can gain skills, education and independence.
Local MP Rachel Boyak was one of many lovely local people who attended our charity cycle ride.
Cycling For Independence
Alongside The Red Cross and Wheelie Fantastic, we also delivered a cycling proficiency program with former refugees now living in Nelson/Whakatu. Over the course of several weeks, ladies with varying cycling experience were able to prepare for New Zealand roads at Saxton field velodrome. Once ready, they began taking increasingly challenging bike rides to gain further skills and confidence.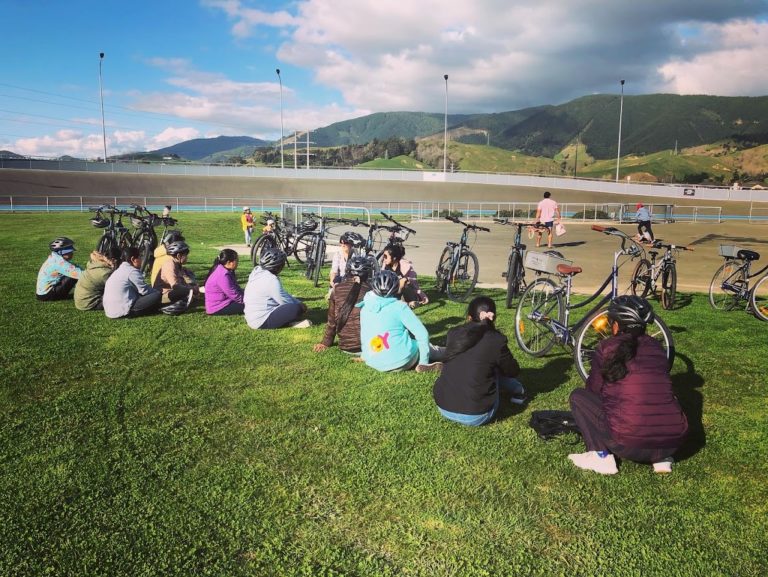 Upon completing the series of sessions, the ladies were each presented with a helmet and bike. Bike maintenance was delivered at the Bike Hub, also at Saxton Field. The Bike Hub is a wonderful community project to which many people give their time, skills and energy to get more people on bikes. They gratefully welcome donations of old or unwanted bikes if you have any gathering dust and rust.
Many cyclists were soon confident enough to tackle longer rides, from Mapua back to Nelson. A great way to improve fitness and connect with the wider area. The program was completed with some kai and fun rewards. It was lovely to take time to recognize the huge improvements made in a short period of time.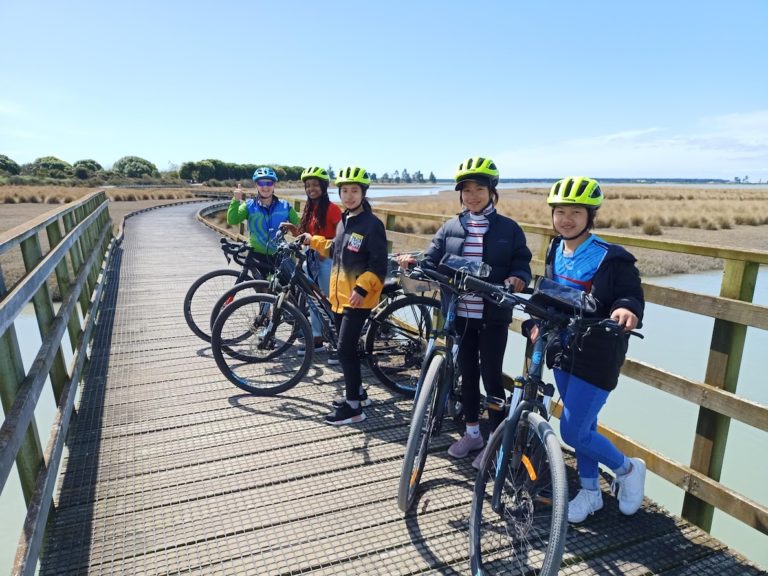 Several different groups of ladies undertook different challenges to extend themselves and gain cycling proficiency. Here a younger group of competent ladies cycled along the coast towards Mapua.
Cycle Safety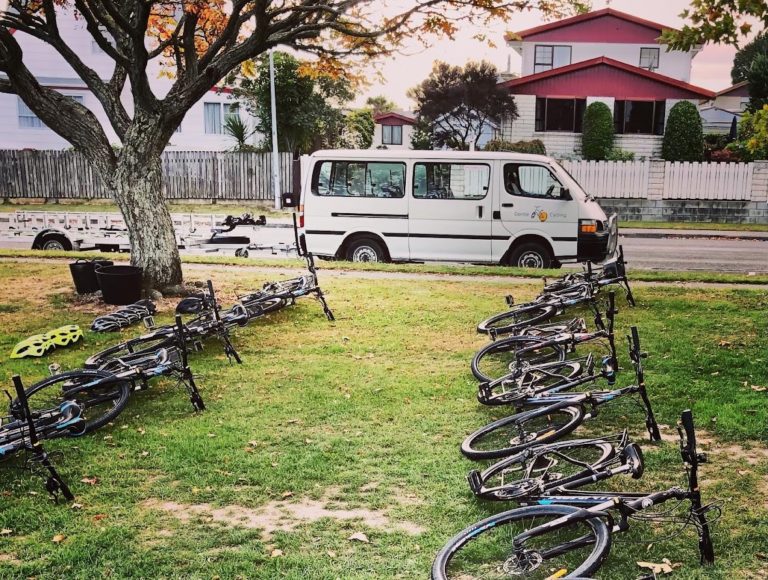 Cycle safety is one our utmost goals and the focus of much of our training here at the Gentle Cycling Company. We also support cycle safety education within the community and have  worked with Next Bike, a cycling education organisation that provides drivers with greater awareness of cyclists.
The goal of the Next Bike organisation is to lower the number of tragic incidents on NZ roads by providing education around cycle use and what is like to be out on the road on a bike in traffic. Over several days, truck drivers from a large haulage company were given education and road cycling experience. The focus was to better understand the hazards and experiences cyclists face on our roads.
Myanmar Karenni Festival
Wintertime is  a great chance to recharge the batteries – and not just those on our E-bikes! It is also a time to connect with many wonderful people from our deliciously diverse community. We felt proud to be invited to celebrate the Myanmar Karenni festival. The event was fun, visually vibrant, proud and served up stunning food to share with everybody present.
Whats Next For The Gentle Cycling Company?
The next big event in our calendar is Clean Up Week, organized by Keep New Zealand Beautiful. This annual event runs from 16th to the 22nd of September 2023. Once again, we will work alongside our friends at Nelson Cycle Hire, Wheelie Fantastic, Cycle Journeys and Kiwi Journeys. Each of us chooses a section of the Great Taste Trail to spend time collecting rubbish. Both on and alongside the cycleway. We are committed to keeping our local environment clean and healthy and it is great to support the great conservation efforts happening along the Great taste Trail. Please reach out if you would like to assist with this effort.
Both as a company and as individuals, we have found these initiatives to be very rewarding and we look forward to connecting with more people each year. Want to find out how you can get involved? Give us a call at The Gentle Cycling Company and we can fill you in on all the details.