Check out our self-guided experiences below. Guided options available upon request
We are the original Nelson cycle tour company, delivering people to diverse landscapes, tasty places and orchards since 2009. Our single day cycle tours are created for groups small or large. Family, friends and work mates all give great feedback about the experiences we provide. When you cycle with us you can relax and enjoy the freedom of cycling, with all the knowledge and support you need. Free, off-street parking available. You can book online or call 0800 932 453 to speak to Bernie or Chris for further advice and ideas
Fine Taste Tour Series
Part guided tour with fine tastes included along the trail
From $295pp (min 2)
30-35km gentle cycling by E-bike over 6 hours
Whether you're a local looking to discover hidden gems in your own backyard or a visitor seeking an authentic Kiwi experience, these tours promise a day filled with unforgettable moments and a deeper appreciation for Nelson's vibrant culture and stunning landscapes. Choose from:
Fine Tastes of Waimea *Reduced from $295 to $245pp (min 2)
Your tour will begin with a visit to a local hop farm in the heart of Waimea plains. Cycling alongside ambling rivers, farms and through historic towns, you'll get to eat and drink local produce including fresh fruit drinks, smoothies and wholesome culinary treats. Onwards to Nelson and the heart of craft beer brewing. Your tour will end with a refreshing beer tasting, featuring some of the hop varieties you've seen along the trail. 
Inclusions: E-bike, helmet, map & briefing, transportation, local fruit drink, hop farm tour, lunch voucher, beer tasting, shuttle home.
 Fine Tastes of Tasman *Reduced from $395 to $345pp (min 2)
You'll be introduced to an innovative local artist who is proud to share his inspirational story and artistic journey. His creations are truly unique and combine ancient knowledge and modern ideas in a rustic rural setting.
Continue through quaint villages and rolling farmland to the picture perfect Mapua wharf. You will sample diverse New Zealand wines by the coast before boarding a short ferry ride to Rabbit Island and on to Nelson. The tour ends with a beer tasting at a local craft brewery with a great range of delicious beers. 
Inclusions: E-bike, helmet, map & briefing, transportation, guided art tour, coffee / fresh fruit ice cream, wine tasting, ferry ticket, local fruit drink, craft beer tasting & shuttle home.
Waka & Wheels Tour
Cultural Waka experience, bike ride to Mapua & shuttle home
From $295pp (min 4)
Approx. 38km including some hilly sections and flat coastal cycling
This full day tour begins with a shuttle along the coast to Kaiteriteri. Enjoy a cultural Waka paddle experience designed for all ages and abilities.
You'll be immersed in Māori culture, learning about the rich history of some of the seafarers who settled and thrived in this stunning area. You'll be treated to informative and insightful kōrero (stories & knowledge) in a safe sea-based experience.
Exploring the stunning Abel Tasman National Park, you'll get a different perspective of its sheltered sandy bays and islands. Seals and penguins breed here, orca and dolphins are seen from time to time.
After you've learnt about the tasty history of this area, you can choose to eat right by Kaiteriteri's golden sands or cycle on the Great Taste Trail to Motueka.
With a diverse range of delicious culinary styles to choose from, this fruity town has something for everybody. Along the trail you can buy local fresh fruit from a farm stall or cool off with a tasty fresh fruit ice cream next to paddocks of berries.
Continue on to picturesque Mapua and its wharf adorned with boutique tasty places to delight the taste buds. A shuttle home from Mapua means that you can celebrate the day's achievements in the coastal wine bar or craft beer brewery situated right on the wharf.
This cultural and culinary experience creates lasting memories and a deeper appreciation for the region's rich history, produce and environment.
Spooner's Tunnel Tour
Includes shuttle to the hills above Nelson, from $125 per person with trail bike (min. 2)
Shuttle van departs approx. 9:45am. 50km gentle downhill cycling 4-6 hours
The Spooner's Tunnel tour is a marvelous day ride which takes you on a downhill adventure through forest, farms, a tunnel and along meandering rivers.
We begin the day with a full briefing and bike kitting at our base. We then shuttle you up into the hills as we point out key landmarks for your day's adventures.
Disembarking in the lush hills above Nelson at the Flat Rock Café, Kohatu there's time to stop for a coffee or a cheese scone.
From here it's a beautiful 50km off-road trail, steadily downhill and back to Nelson. You'll be following the historic railway route and it's interesting to read up on its creation on the information panels at various locations as you go. The scenery en route is diverse. From lush hop plantations, forest, wineries and market gardens, the Waimea plains supports a diverse range of fertile habitats and delicious crops.
One highlight of the day will be your ride through the Spooner's Tunnel. This is the southern hemisphere's longest disused rail tunnel at almost 1.4 km long so good lights are required.
The villages of Wakefield and Brightwater both have cafes and plenty of history if you take the time to explore. Brightwater was the birthplace of Ernest Rutherford, the father of nuclear physics and the memorial to him is quite fascinating.
To finish, Eddyline and McCashin's breweries are both close to the end of your tour, perfectly located for a celebratory drink after a wonderful day touring on two wheels. If there's time, you may wish to deviate towards the Waimea estuary and take in a winery and some stunning coastal scenes.
'Tuscany of NZ' Wine Tour
Includes bicycle (E-bike recommended) & transport options
Two options available, with different inclusions and cycling distances
Upper Moutere is the 'Tuscany of NZ' with picturesque and boutique wineries set in glorious rolling countryside. This area is a wine and food lover's paradise with art and history blended into the mix. We recommend taking an E-bike to help you cruise over the undulating country roads with ese and in comfort.
Option 1: Cycle along the coastal section of the Great Taste Trail from Nelson to Rabbit Island (30km). Glide along the shoreline, boardwalks and enjoy expansive views of the Waimea inlet on your way to Rabbit Island where your ferry awaits (ticket included). It's a short hop over to the waterfront hub of Mapua where you can enjoy art, coffee and tasty treats before heading inland to the hills of the Moutere.
Gravity, Heaphy and Neudorf are some of our favourite wineries and perfect places to enjoy fine wine, tasty platters and stunning locations.
You could also choose to peruse a historic settlers cottage, art galleries or a Buddhist temple before enjoying a marvelous meal at New Zealand's oldest pub, the Moutere Inn, or fine dining at Forsters restaurant at Moutere Hills Winery before your shuttle back to sunny Nelson with a few bottles of your favourite tipple. Total of 50km+ cycling.
Option 2: We'll shuttle you to Mapua and save you the 30km morning ride along the coast. Enjoy art, food and refreshments in this lovely waterfront hub before setting off into the Moutere hills to connect with the same places detailed above.
This option also includes the shuttle home at the end of the day and provides you with significantly more time to eat, drink and explore the Tuscany of New Zealand, Upper Moutere. 20-30+km cycling. Guided options & discounts available for larger groups.
Great Taste Beer Tour (Coast & Rail Circuit)
23km flat & easy off-road cycling - $110 per person with standard trail bike
Includes: door to door transport, trail bike & beer/cider tasting at a historic brewery bar
Visit some of Nelson's oldest, newest and best breweries whilst cycling this nice and easy, flat off-road circuit. You'll hardly work up a sweat whilst riding a few kilometers between each stop; a coastal country pub, McCashin's Tap Room (the home of Stoke beer & Rochdale Cider), Speights Ale House and the innovative Eddyline craft brewery. With added options including Pic's Peanut Butter World and the Classic Car Museum, there's something for everybody.
You'll be provided with a beer / cider tasting paddle as part of your tour and be able to watch the beautiful beers being made in the same building whilst you taste and discuss which drink is your favourite. This popular tour is great fun for groups large and small.
Great Taste Beer Tour (ending in Nelson City)
20-30km mostly off-road cycling - $110 per person with standard trail bike
Includes: Collection from accommodation, off-road cycling, trail bike, beer tasting at a Nelson City Brew Pub and shuttle home
This is a bespoke beer tour option where we will discuss the many thirst-quenching bars and breweries available to you on the day. You'll head off with a personalised map to follow.
Starting between 10/11am, we'll arrange to either bring bikes to you or pick you up from your Nelson accommodation and set you off from our base in Tahunanui.
We'll kit you with bikes, helmet, lock and beer voucher, giving you a briefing and a detailed map of the area. You'll then head off to visit breweries and bars, ending with a beer tasting experience in Nelson city with a wide range of places to eat, drink and explore along the way.
We will collect your bikes from the pub by 5pm (time TBC). You can choose to catch a lift back to your accommodation with us or carry on and enjoy the delights of Nelson well into the night.
Great Taste Wine Tour
30 to 60km - flat & easy cycling - Prices below
Take a day to explore the spectacular coast and wine country located around the Great Taste Trail. Linger at wineries, immerse yourself in cafe's restaurants, galleries and relax with friends. We recommend taking the hop over to magical Mapua. There are 3 wonderful options to choose from.
Option 1 (from $85): Cycle along the coast to Nelson's oldest winery where you will enjoy a complimentary wine tasting surrounded by gorgeous vines. Optional detour to a certified organic winery, historic cafe and artisanal Old Factory Corner, full of tasty places. Return ride to Nelson with detours available to microbreweries, arty places and more. (Includes bike, 1 wine tasting & 45-60km of cycling)
Option 2 (from $135): As above, but you continue cycling on from the wine tasting, on to Rabbit Island and take a short ferry ride to the picturesque wharf-side town of Mapua. Here you'll enjoy a second, more extensive wine tasting at Rimu Grove Wine Bar, with an expansive Kiwi wine collection. Followed by a return cycle to Nelson. (Includes bike, 2 wine tastings, return ferry ticket & 60km of cycling)
Option 3 (from $175): As option 2, but you treat yourself to a return shuttle from Mapua at the end of the day so you have more time to enjoy fine wine, food, art and the many other delights of Mapua. (Includes bike, 2 wine tastings, ferry ticket, return shuttle & 30km of cycling)
Paddle & Pedal Tour
We've teamed up with our mates at Moana SUP to offer a Paddle and Pedal combo you'll love!
Collect your bike from Tahuna Holiday Park and ride to the beach for your 1 hour kayak or SUP experience in the tranquil morning sea. These guys are great fun and you'll love cruising around the flat water on a stand-up paddle board or kayak.
Bring togs and jump in for a swim if you're keen! Shower off at the public showers right next to the beach.
Enjoy a coffee or brunch at Raglan Roast if you're keen. Continue by bike into Nelson to explore, shop eat and drink OR take our beer tour map and have an afternoon of off-road riding to Nelson's best breweries and bars.
This is great fun for couples, friends and families and at a very competitive combo price. Book now and plan your next adventure!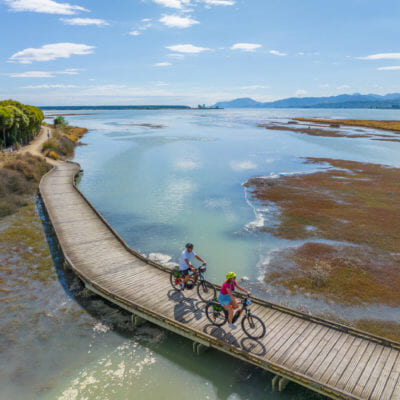 Rabbit Island Picnic Tour
45km+ flat & easy cycling - $110pp Standard Trail Bike / $160pp E-bike
Take a delightful round trip from our Nelson base to the golden sands of Rabbit Island and enjoy tasty treats at your own pace.
Cruising along the coast, you'll enjoy a flat, easy ride with expansive sea views and boardwalks so you're up close to the abundant natural delights of the Waimea Inlet.
Turning inland for a short detour to an iconic Nelson café, you can grab a coffee whilst collecting your freshly prepared picnic box, made with fresh food and a drink from the Nelson region. Onwards past orchards and fields, glide over a swing bridge and through farmland before turning on to Rabbit Island.
Explore the expansive beach for a place to eat or enjoy one of the many picnic spots dotted around in wooded clearings. Simply relax, explore or make time to add to the wooden creations and have a refreshing swim. On the way home there may be time for a short detour to a winery, arty establishment or brewery… Happy Days in Nelson Bays!
Great Taste Goose Chase
20km+ flat & easy cycling - $65 Standard Trail Bike, E-bike $115
Great fun for small or large groups, download the GooseChase app, get on one of our bikes and get your creative juices flowing whilst completing a series of challenges. The app records your hilarious attempts to innovate and complete the various weird and wonderful challenges so you can keep score and compare with other groups as the day progresses
Family Fun Loop
Standard Trail Bikes, E-bikes, child bikes, kiddie trailer, tag-along bike & child seats available - prices on request depending upon the length of time you require
Follow our easy off-road route and take in coastal views, cafe's, bars, beach and playground. Take a tour of Pic's Peanut Butter World (booking required), the Classic Car Museum or compete in a fun family GooseChase game using the app on your phones. There are many options to choose from!

Guided / Unguided
If you are wanting to extend your adventure out for more than a day, check out our unguided and guided multi-day trip packages, that include bike hire (or you can bring your own), accommodation, transfers and more. Our guided multi-day trips on the Great Taste Trail are designed to enable you to ride the trail in a supported group, safe in the knowledge that you will see all the best things along the way.

What our adventurers say
Our tours are perfect for groups too...
Hi Bernie and Chris,

When it comes to customer service and communication l can't thank you enough for ALL of your support and l can say we had nothing but fun in the sun.
From your preparation and very interactive care factor on day 1 we felt well looked after.
Contacting us daily and ensuring we knew what we were doing came as a blessing because my dad, 78 years old and I'm certainly not the most in shape cyclist, we certainly had a well-rounded, organised and fun filled ride with each other thanks to you and your Team.

Memories that will last a lifetime.

  

Accommodation and scenery on our journey was well and truly past my expectations.We both cannot thank you enough and still talk about how well we were treated.
Bernie, if only l had 30 more staff members of your passion and commitment in my business. Truly inspiring and such a pleasure to have met you.

Epic!!! Such a life changing experience to have done this with my father but could not thank you enough for your efforts.Chur/Thanks

Aaron and Doug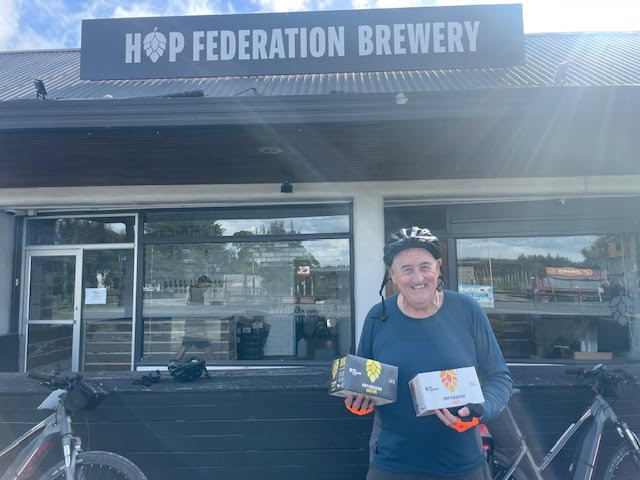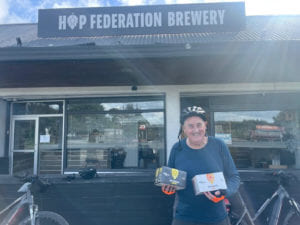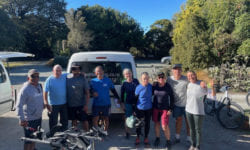 The highlight for the Mt. Pirongia Papier Mache Club's long weekend in Nelson, was the bike tour. Superbly hosted and organised by The Gentle Cycling Company, we enjoyed the hospitality of the different venues, and the scenery offered by the great bike trails. We give thanks.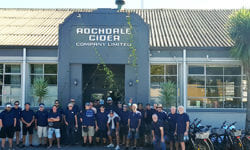 We have just finished our 5 day guided Cycle Tour with Chris & Bernie from Gentle Cycling. There were 16 in our Group & we have had the most amazing time with Chris as our guide. Once introduced to Chris & Bernie they never forgot a name & everything was 100% perfect!! Our accommodation was all split up due to the size of our group & we were all thrilled with our accommodation!! We would thoroughly recommend Gentle Cycling!!