Family friendly - Beaches, vineyards, boardwalks and galleries, this tour enjoys the highest concentration of places to eat, drink and soak up the many wonders of the Great Taste Trail.
Family friendly, this tour is divided into manageable chunks so there's plenty of time for you to stop and enjoy the delights each day. On this ride, you will follow the Coastal Route of the Great Taste Trail from the Waimea plains to the golden beach at Kaiteriteri, the gateway to the Abel Tasman National Park. Take a ferry built for bikes, cycle through apple and kiwifruit orchards and stop off at the funky cafes. And while you are here (in the heartland of NZ hops) make time to taste the beers at the craft breweries along the trail. There are some hills on this route but nothing much over 100 metres and the views and down hills make it all worthwhile.
Quick Details:
DURATION: 3 or 4 days (extra night in Mapua / Kaiteriteri recommended)
DISTANCE COVERED: 70km total (approx. 20km per day)
PRICE: From $980pp dependent upon accommodation rates, season, duration and group size
SUITABLE FOR: Families and friends who want a modest amount of cycling each day. You'll have plenty of time to stop and enjoy the great tastes along the way
INCLUDES: Mostly flat coastal cycling on well formed trail with a few hills to provide stunning views of Nelson bays / Abel Tasman
*Discount applies when booking 4 or more adults
**Ideal for people who want to enjoy the coast, wineries, art and tasty places

The Itinerary
Stoke → Mapua → Motueka → Kaiteriteri (65km)
It's an easy, flat ride today and a nice soft introduction on the first day of your cycling trip. McCashins Tap Room or the cafe at Pic's Peanut Butter World are popular venues for a snack before you head off. Once out on the Great Taste Trail Coastal Route it's a flat ride around the Waimea Estuary before heading towards Rabbit Island beach. You will pass close to Seifried Estate Winery with onsite restaurant Harvest Kitchen en route. Stop for a break, have a swim, or bring a picnic to have on the beach, before catching the ferry from Rabbit Island to the Mapua Wharf. It is casual and summery on the wharf, with kids swimming, busy cafes, another brewery and hot smoked fish and chips to be eaten straight out of the paper. There are lots of neat things in Mapua, including a great gallery (with the best range of craft jewellery in the region) and the old wharf is a great place to relax at the end of the ride.
ADD AN OPTION: Extra night in Mapua
We recommend you consider two nights in Mapua, allowing time enjoy this arty, foodie village. Take time to wander in the village, visiting the galleries, shops, wine bar, brewery and cafes. Or follow the locals to the estuary for a swim at high tide (or take your lead from the kids who prefer to jump off the wharf). There is plenty to fill a relaxing rest day here.
With two nights in Mapua, there is also time for an on-road day ride to the village of Upper Moutere. For those with an interest in art, wine or beer, this day in the Moutere area is a must.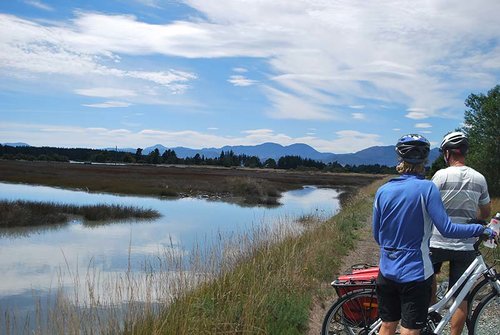 You are cycling from Mapua to Motueka today. There are some hills in this intermediate grade section, but they provide wonderful views of the wider region. From Mapua the Great Taste Trail follows the coast to the sleepy settlement of Ruby Bay before a steepish climb of approximately 1km on sealed trail onto an elevated route above the coast among the apple orchards. It is a beautiful gentle downhill into Tasman village, where there is a village store and cafe, a stylish pottery and an optional detour out to the beachfront on the Kina Peninsula. The route then turns back uphill for a longer climb of approximately 3km to Moutere ridge. The next gravel section (4.5km) climbs and descends as you follow the ridge (elevation approximately 110m). It's not a long section so take it easy and enjoy the views. Check out the cafe on the site of Riverside Community – the oldest alternative community in NZ. Approaching Motueka township, the trail passes Toad Hall Cafe & Townshend Brewery, a great place to relax with some food and beer under the big oak trees in the garden. The last section of trail into Motueka is all flat and follows the estuary waterfront, past rambling gardens and grassy beach reserves. Look out for the Saltwater Baths and the old wharf.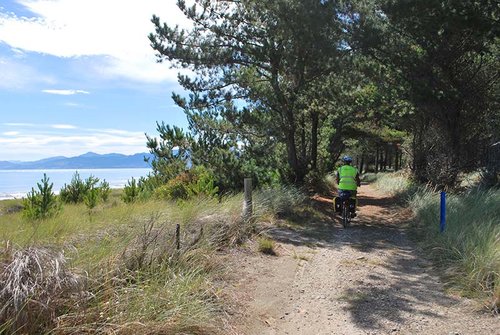 This is a short section and it's flat – until the end. And it's "honesty box" country so expect some fresh fruit (in season) including apples, pears, nashi, grapes, feijoas, citrus and melons. Leaving Motueka the trail heads to Riwaka, a cute little village which is home to a great cafe and a craft brewery, so plan to stop there. After Riwaka there is a section that goes right through a kiwifruit orchard before the trail rejoins the coast. The trail then drops and climbs beside the road for a section before ducking into the Kaiteriteri Mountain Bike Park. This last section of 3.1km is intermediate grade and takes the Easy Rider Trail through the park. The surface is smooth and it is not technical but you might want to take it very gently as there are some tight corners and some riders prefer to walk. As the trail winds down through the bush and pine trees you will soon get the first glimpse of your destination – the stunning golden shores of Kaiteriteri Beach. The beach is the departure point for boats travelling into the Abel Tasman National Park. All our Coastal Classic packages include door-to-door return transport from Kaiteriteri, bringing you and your bikes back to Nelson.
ADD AN OPTION: Extra night in Kaiteriteri
Why not enjoy a relaxing stay in Kaiteriteri at the end of your trip. There is a range of accommodation in Kaiteriteri including an Eco Resort, with vegetarian restaurant, spa, massage and pool facilities.
ADD AN OPTION: Abel Tasman National Park Day
Staying the night in Kaiteriteri makes it easy to use the following day for a trip in the Abel Tasman National Park. In the morning, it's an easy walk to the beachfront where your Park Day begins. Wilsons Abel Tasman offer a range of single day trips in the park (standard retail prices apply). For a flexible full day walking trip option, we recommend the Open Day Pass. There is also a range of full day kayak trips available. When we book your Park Day as part of your cycling trip, we will ensure your whole itinerary fits together seamlessly.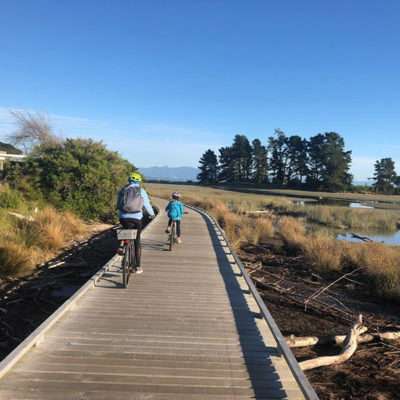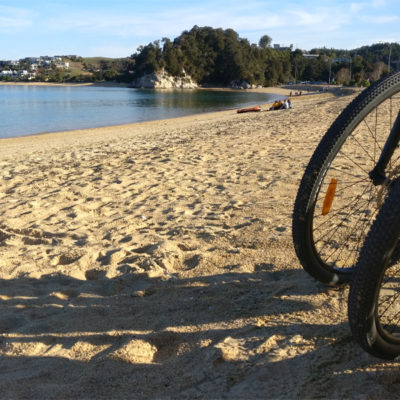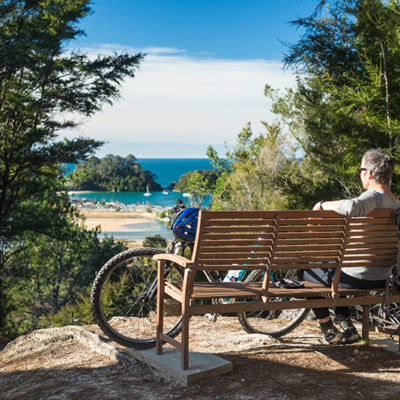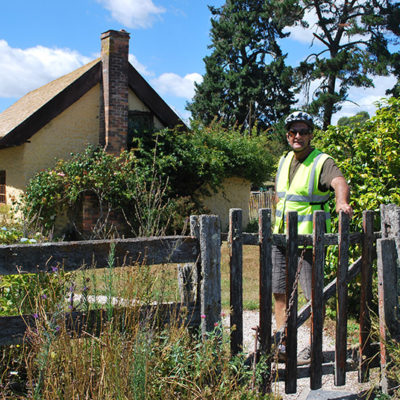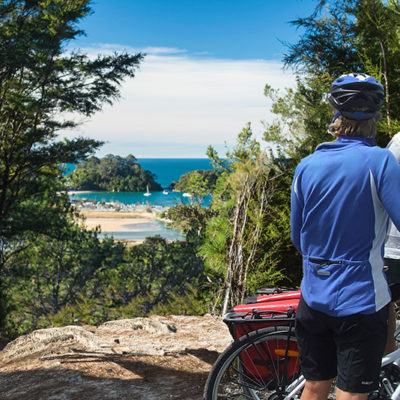 Interactive Map
Explore the Coastal Classic ride with the interactive map below. Use the + to zoom right in and explore the landscape on the trail. Click on the orange symbols and the blue route line for more information.
What our adventurers say
Our tours are perfect for groups too...
Hi Bernie and Chris,

When it comes to customer service and communication l can't thank you enough for ALL of your support and l can say we had nothing but fun in the sun.
From your preparation and very interactive care factor on day 1 we felt well looked after.
Contacting us daily and ensuring we knew what we were doing came as a blessing because my dad, 78 years old and I'm certainly not the most in shape cyclist, we certainly had a well-rounded, organised and fun filled ride with each other thanks to you and your Team.

Memories that will last a lifetime.

  

Accommodation and scenery on our journey was well and truly past my expectations.We both cannot thank you enough and still talk about how well we were treated.
Bernie, if only l had 30 more staff members of your passion and commitment in my business. Truly inspiring and such a pleasure to have met you.

Epic!!! Such a life changing experience to have done this with my father but could not thank you enough for your efforts.Chur/Thanks

Aaron and Doug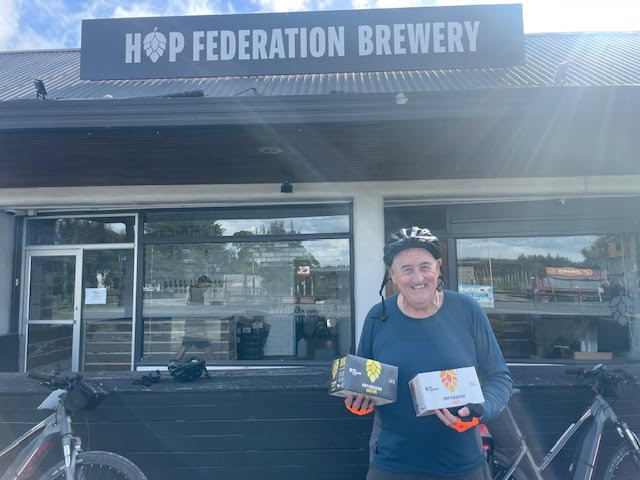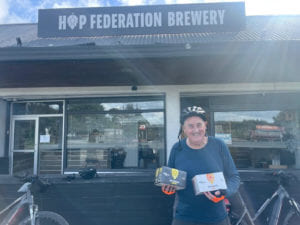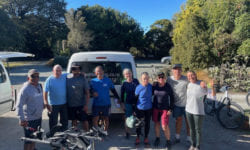 The highlight for the Mt. Pirongia Papier Mache Club's long weekend in Nelson, was the bike tour. Superbly hosted and organised by The Gentle Cycling Company, we enjoyed the hospitality of the different venues, and the scenery offered by the great bike trails. We give thanks.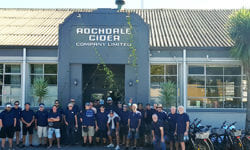 We have just finished our 5 day guided Cycle Tour with Chris & Bernie from Gentle Cycling. There were 16 in our Group & we have had the most amazing time with Chris as our guide. Once introduced to Chris & Bernie they never forgot a name & everything was 100% perfect!! Our accommodation was all split up due to the size of our group & we were all thrilled with our accommodation!! We would thoroughly recommend Gentle Cycling!!

4 Days: Kohatu - Stoke - Mapua - Motueka - Kaiteriteri
This popular off-road tour option enables you to follow the historic rail route and cycle through the iconic Spooners Tunnel, along rivers, through regenrating forest, vineyards and historic towns. Then along the coast with its many artisanal delights, ending at the golden sands of Kaiteriteri.
6 Days: Nelson - Abel Tasman National Park
Leave Nelson on two wheels and return six days later on a luxury yacht. Your guide will take you on a personalised tour along the Great Taste Trail and into the South Island's golden crown, Abel Tasman National Park, exploring the Top of the South in decadent style.
5 Days: Tapawera - Kaiteriteri - Mapua
Keen to tick off the whole Great Taste Trail circuit? This tour is for those with the fitness and fortitude for on and off-road cycling. The diverse landscapes and sense of achievement are well worth it and you'll get to enjoy some remote and rugged scenery for your efforts.
Single Day Tours
Guided / Unguided
Check out our full day and half day, guided or unguided packages on the Great Taste Trail. You can choose from our tours: Spooners Tunnel, Marvelous Moutere, Rabbit Island Picnic, Great Taste Wine, one of our Great Taste Beer tours or the Great Taste Goose Chase. We can also design a bespoke adventure for you – get in touch!