Gentle Cycling Company shuttle services will get you where you need to be – bikes and all!
Need to skip ahead to a favourite spot on the Great Taste Trail? Prefer to start at Spooner's Tunnel or Mapua? Can't manage all your luggage on the bike? Or are you tight on time and need to cut your Nelson cycling adventure short – whatever the reason, you will find our convenient shuttle services provide the answer for you, your family / friends, your luggage, and your bikes!
We have many shuttle services available around Nelson, the Great Taste Trail and surrounding areas. Including transport to / from Nelson Airport, Mapua, Upper Moutere, Spooners Tunnel and a handy shuttle to the Rameka Track network near Tākaka. See below for details on your desired shuttle service.
We work hard to provide shuttle solutions to make your cycling adventures happen. So give us a call and let us know how we can help 0800 932 453
Spooner's Tunnel Shuttle
$60 per person (min 2, max 14) discount available for larger groups - call to book
A scenic transfer uphill and just beyond the Spooner's Tunnel so you can cycle back to Nelson (50km+)
Just can't wait to see your favourite highlight on the Great Taste Trail – Spooner's Tunnel? Then our Spooner's Tunnel Shuttle service will get you there hassle-free and fast. At just 40 minute's drive, this will cut around about 2 hours off your cycling journey, so whether it's to get home faster or to begin with a bit of a head start, the Spooner's Tunnel Shuttle is the way to go. Bookings are essential.
Mapua & Moutere Shuttle
$45 per person (min 2, max 14) discount available for larger groups - call to book
Explore the finest wineries, art and rolling hills in the historic area of Upper Moutere, formerly known as Sarau
Whether you need transport to skip ahead to begin your ride at the seaside village of Mapua (eliminating the reliance on the cycle ferry from Rabbit Island) or start or finish your ride somewhere between Upper and Lower Moutere, our Mapua and Moutere Shuttle service has you and your bike covered. Choose to get on board (or off) at Mapua, the picturesque seaside spot with cute little cafes inspiring galleries, or further along the trail's western route near Upper Moutere and its famous vineyards. Bookings are essential.
Nelson Airport Shuttle
Price dependent upon distance and group size (call to book)
We'll track your flight and be there to transport you, your luggage and any bikes to your accommodation anywhere in the Nelson / Tasman region
Departing from the Nelson Airport, our shuttle will collect you, your bikes and luggage and provide transportation to the Gentle Cycling Company's cycle base at 70 Beach Road, Tahunanui (near the Tahuna Beach Holiday Park). We can also offer transport from our base back to the airport at the end of your cycling adventure if required, or to your accommodation anywhere in the region
Bookings are essential.
Rameka Track Shuttle
$95 per person (min 6 max 9)
An action-packed day riding through the rugged terrain of Golden Bay
For those who choose to head a bit further afield to the Rameka Trails near Tākaka, our handy bike shuttle is just what you need. Situated in the picturesque Canaan Downs Scenic Reserve along with the classic downhill Rameka single-track, there are a number of other trails to explore while you are there. Our Rameka Shuttle service will get you where you need to be with plenty of time to spare to enjoy the Rameka network of mountain biking tracks and home again if that is what you need. Bookings are essential.

Guided / Unguided
If you are wanting to extend your adventure over multiple days while still returning to base or stay out on the trail for longer, check out our unguided and guided single day and multi-day packages that include; bike hire (or you can bring your own), accommodation, transfers and more.

What our adventurers say
Our tours are perfect for groups too...
Hi Bernie and Chris,

When it comes to customer service and communication l can't thank you enough for ALL of your support and l can say we had nothing but fun in the sun.
From your preparation and very interactive care factor on day 1 we felt well looked after.
Contacting us daily and ensuring we knew what we were doing came as a blessing because my dad, 78 years old and I'm certainly not the most in shape cyclist, we certainly had a well-rounded, organised and fun filled ride with each other thanks to you and your Team.

Memories that will last a lifetime.

  

Accommodation and scenery on our journey was well and truly past my expectations.We both cannot thank you enough and still talk about how well we were treated.
Bernie, if only l had 30 more staff members of your passion and commitment in my business. Truly inspiring and such a pleasure to have met you.

Epic!!! Such a life changing experience to have done this with my father but could not thank you enough for your efforts.Chur/Thanks

Aaron and Doug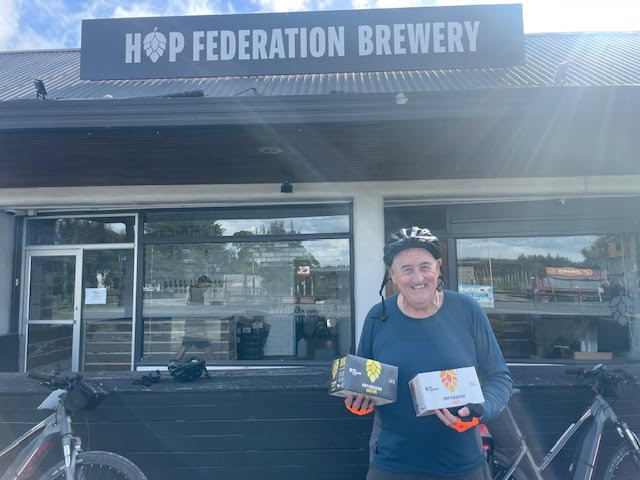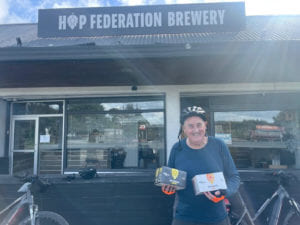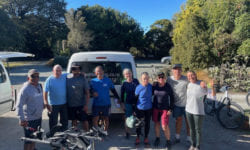 The highlight for the Mt. Pirongia Papier Mache Club's long weekend in Nelson, was the bike tour. Superbly hosted and organised by The Gentle Cycling Company, we enjoyed the hospitality of the different venues, and the scenery offered by the great bike trails. We give thanks.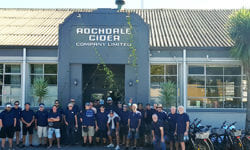 We have just finished our 5 day guided Cycle Tour with Chris & Bernie from Gentle Cycling. There were 16 in our Group & we have had the most amazing time with Chris as our guide. Once introduced to Chris & Bernie they never forgot a name & everything was 100% perfect!! Our accommodation was all split up due to the size of our group & we were all thrilled with our accommodation!! We would thoroughly recommend Gentle Cycling!!