The Gentle Cycling Company have a fleet of bikes for you to hire
Below are some of the bikes that we offer for hire for Multi-Day and Single Day tours.
Choose from our fleet of touring bikes and E-bikes which all have modern mid-drive pedal assist motors for powerful, smooth and comfortable riding.
Our bikes are regularly maintained to the highest standards and include a helmet, lock and repair kit.
E-Bike Hire
Avanti Explorer & Sinch Low Step bikes
Riding an electric bike demands virtually the same skills as when riding a standard bike. Riding an electric bike makes it easier to go further, as less stamina is required. Managing head-winds and hills is much less demanding when riding an electric bike. They are a great way to extend your daily cycling distance. It is relatively easy to ride up to 60km a day on an electric bike.
Features:
Maximum range 120 – 150km on the lowest power level (up hill and severe head winds can reduce range). Re-charging the battery from fully flat takes around four hours (we will transfer your charger each day, with your luggage, so you don't need to carry it with you).
8 gears, used just the same as when riding a standard bike.
Our e-bikes all have low step frames
Moderately chunky tyres, providing more grip on gravel.
Maximum assisted speed of 32 km/hour. Can go faster than this down hill. An average speed of between 15 – 20km an hour on varied terrain. With the motor off, you can ride quite easily on sealed, flat terrain.
You can carry extra weight more easily. Our electric bikes have racks which take our fully waterproof Ortlieb panniers
Cyclists need to be confident with basic skills such as balance, braking, cornering and gear changing. It is important to understand that riding an electric bike is not appropriate if the rider is not a confident cyclist. Basic fitness is also required, as the legs are still going to be working.
Touring Bike Hire
Avanti Discovery Touring Bikes: The Discovery range of bikes are all built around a total comfort concept. Lightweight frames with an upright ride position take the pressure off your hands and wrists. Powerful and smooth disc brakes provide controlled braking in any situation. Suspension forks, seat post and super comfy saddles smooth out the bumps in the road/path. Adjustable angle stems mean the handlebars can be raised up for an even more comfortable riding experience.
Key features of the Discovery Touring bike:
Lightweight, upright and stable frame for easy and assured riding
Shimano hydraulic disc brakes for controlled braking, rain or shine
Adjustable stem allows you to raise up the handlebars for a comfortable position
The wide and comfy saddle combine with a suspension seat post, for a magic carpet ride
Fast-rolling and grippy tyres are perfectly tuned to the city streets and bike paths, but equally at home on a rail trail
Low-step and crossbar options are available subject to demand.
Cyclists need to be confident with basic skills such as balance, braking, cornering and gear changing. Basic fitness is also required.

Multi Day Tours
Guided / Unguided
If you are wanting to extend your adventure out for more than a day, check out our unguided and guided multi-day trip packages, that include bike hire (or you can bring your own), accommodation, transfers and more. Our guided multi-day trips on the Great Taste Trail are designed to enable you to ride the trail in a supported group, safe in the knowledge that you will see all the best things along the way.
Single Day Tours
Guided / Unguided
Check out our full day and half day, guided or unguided packages on the Great Taste Trail. You can choose from our tours: Spooners Tunnel, Marvelous Moutere, Rabbit Island Picnic, Great Taste Wine, one of our Great Taste Beer tours or the Great Taste Goose Chase. We can also design a bespoke adventure for you – get in touch!

What our adventurers say
Our tours are perfect for groups too...
Hi Bernie and Chris,

When it comes to customer service and communication l can't thank you enough for ALL of your support and l can say we had nothing but fun in the sun.
From your preparation and very interactive care factor on day 1 we felt well looked after.
Contacting us daily and ensuring we knew what we were doing came as a blessing because my dad, 78 years old and I'm certainly not the most in shape cyclist, we certainly had a well-rounded, organised and fun filled ride with each other thanks to you and your Team.

Memories that will last a lifetime.

  

Accommodation and scenery on our journey was well and truly past my expectations.We both cannot thank you enough and still talk about how well we were treated.
Bernie, if only l had 30 more staff members of your passion and commitment in my business. Truly inspiring and such a pleasure to have met you.

Epic!!! Such a life changing experience to have done this with my father but could not thank you enough for your efforts.Chur/Thanks

Aaron and Doug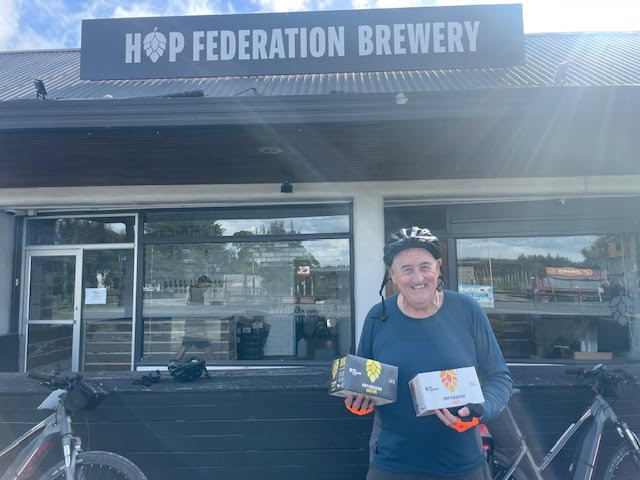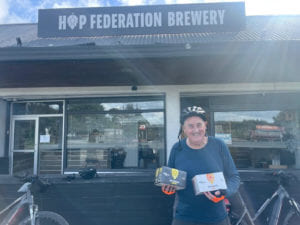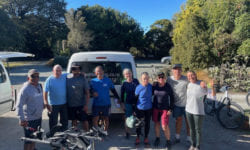 The highlight for the Mt. Pirongia Papier Mache Club's long weekend in Nelson, was the bike tour. Superbly hosted and organised by The Gentle Cycling Company, we enjoyed the hospitality of the different venues, and the scenery offered by the great bike trails. We give thanks.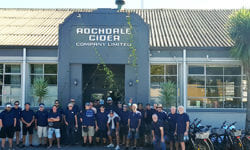 We have just finished our 5 day guided Cycle Tour with Chris & Bernie from Gentle Cycling. There were 16 in our Group & we have had the most amazing time with Chris as our guide. Once introduced to Chris & Bernie they never forgot a name & everything was 100% perfect!! Our accommodation was all split up due to the size of our group & we were all thrilled with our accommodation!! We would thoroughly recommend Gentle Cycling!!