Where exactly is Tāhunanui Beach? It is located at the top of the South Island on the fringes of the city of Nelson. The beach stretches roughly 2km along the outer edge of a small reserve sand spit named the Tāhunanui Recreation Reserve.
Situated 3km from Nelson City centre, Tāhunanui Beach is the closest beach to Nelson City and offers a wide variety of activities and attractions clustered around within very close proximity.
Brief History Of Tāhunanui Beach
The area of Tāhunanui Beach was first thought to have been settled in by Māori over 600 years ago. The word Tāhunanui loosely translates to mean 'large' (nui) 'sandbank' (tahuna) in Māori. The landscape used to consist largely of a much smaller rocky shoreline, which was excellent for gathering kaimoana (seafood).
The beach and dune systems we see today were gradually created over many years, largely the result of a massive flood event in the 1870s where the Waimea River changed course. As with many beaches in NZ, Tāhunanui Beach's current form continues to evolve with the dunes and sand spit still being altered by the tides, including ongoing erosion from the west and increasingly high king tides.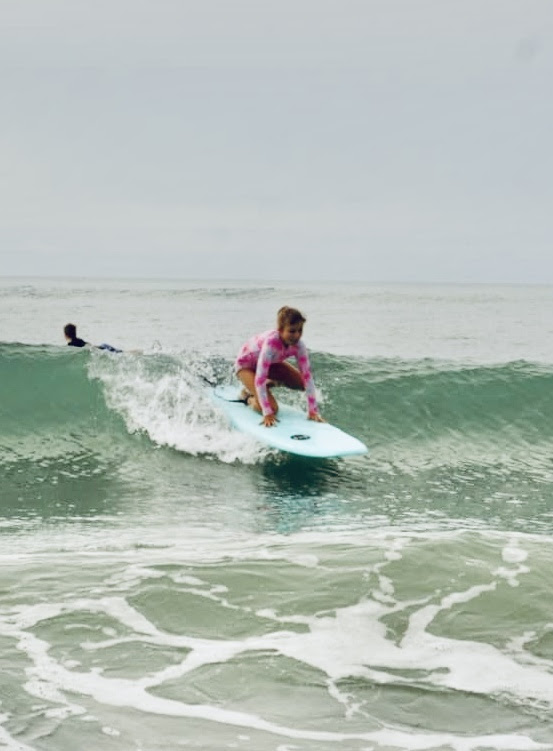 10 Things To Do At Tāhunanui Beach
Tāhunanui is not just a beach, it is also an area with a diverse range of activities suitable for the whole family. The area behind the beach is known as the Tāhunanui Recreation Reserve, and there is a go-carting track, trampolines, water slides, the recreational pond site Te Pā Harakeke as well as Natureland which is home to tuatara, as well as kea and kaka which are often heard calling well into the evening. Check out all of the fun things to do at Tāhunanui Beach below.
1. Nelson Fun Park
The Nelson Fun Park comes complete with bumper boats, one of New Zealand's longest and fastest hydroslides and mini golf! What more could you want for a fun day out at the beach! The Fun Park is open weekends, school holidays and public holidays from 10.30 am – 4 pm, group bookings and combo deals are available.
2. The Gentle Cycling Company
Hire a bike and hit the trails with the friendly team at The Gentle Cycling Company. Whether it's an hour's bike ride around Nelson or a guided tour on Nelson's Great Taste Trail, you will find what you need from the Gentle Cycling Company. They offer a range of touring bikes and E-bikes for hire, and you can also grab a shuttle out to Spooners Tunnel, Moutere, Mapua and the Rameka Track.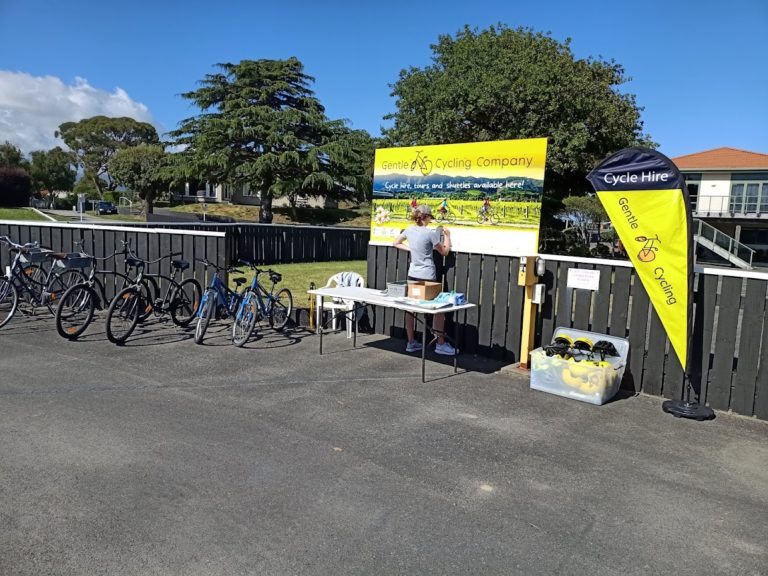 3. Skate Nelson
Located on Beach Road, Skate Nelson is home to the Nelson Roller Sports Club which specialises in four established skating codes – Artistic, Speed, Inline Hockey, and Women's Flat Track Roller Derby. They are open to the public every Friday night 6:30-8:30 pm and Saturdays and Sundays 1-3 pm. Skates are available for hire onsite.
4. Pro Karts
Try out your racing skills on one of New Zealand's only outdoor karting tracks at Pro Karts at Tāhunanui Beach. At just under 300 metres in length, the track provides the perfect conditions for the Sodi RT8 high-quality Pro Karts as you whizz around the track. Book online and save, 10 and 15 minute sessions available, riders must be 12 years and older. Fun Karts available for children 7 years and older.
5. Trampoline Park
Part of the Pro Karts complex, New Zealand's largest outdoor trampoline park is open 7 days per week across the summer season with different options for pre-schoolers. Bounce your heart out for 30 minutes and up to 2 hours, grip socks are compulsory (provided onsite for small fee).
6. Laser Tag
Suitable for ages 5 and up, the impressive outdoor Laser Tag arena will get everybody up and running! Laser tag games range from 60 minutes through to 90 minutes long with a range of combat missions on offer. 11.30, 1 pm and 3 pm sessions are available daily during the school holidays.
7. Natureland Wildlife Trust
A community-focused conservation charity, the Natureland Wildlife Trust features a range of fascinating exotic, native and domestic animals on display. Natureland also provides native wildlife rescue, rehabilitation and breeding services for release back into NZ's National Parks. Meet a meerkat, see if you can spot a kea or tuatara or check out the rabbits and lemurs today!
8. Tahunanui Model Railway
The perfect free activity for little and big kids (although donations are much appreciated)! This model railway runs on Sundays (check opening times as they do vary) and is lots of fun for all ages. Go for a ride, take a stroll through the modellers shed and watch the model boats on the pond.
9. Paddle Nelson
Offering stand-up paddleboards (SUPs) and sit-on-top kayaks for hire and a variety of paddling adventures, you will find Paddle Nelson at the top of Bisley Walk Road right near the beach. Enjoy some time out on the water making memories with family and friends.
10. But Wait There's More!
Seek out the Tāhunanui Beach Playground, Petanque Courts, Beach Volleyball Courts, Tennis Courts and the Nelson BMX Club for more sporting action or try your hand (or foot as the case may be) at life-sized 'Footpool'. There really is something for everyone at the Tāhunanui Beach Reserve!
Accommodation At Tāhunanui Beach
Accommodation is available year-round in Tāhunanui as it is a great base from which to explore the wider Nelson region. There are a variety of B&Bs, hotels and motels in the area as well as the very popular Tāhuna Holiday Park with various camping options. See below for our top 3 accommodation providers at Tahananui Beach.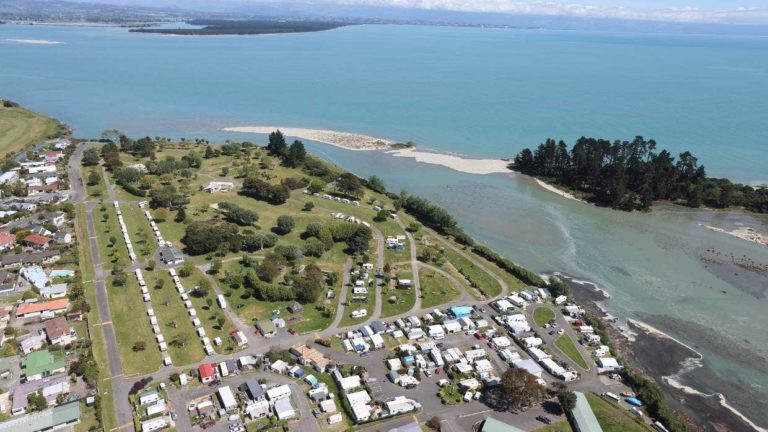 Tāhuna Holiday Park
Right next to the Back Beach (the western extension of Tāhunanui Beach), you will find the world-class Tāhuna Holiday Park (See pic above). A range of accommodation options are available to suit all budgets, including unpowered campsites, cosy cabins and fully self-contained units. Holidayers will enjoy the onsite café and store, mini golf, pedal carts and playgrounds – perfect for keeping the kids entertained. There is also a lovely boardwalk that wraps around the holiday park right next to the beach. It's an easy, flat trail taking cyclists on to the Great Taste Trail and beyond for cycling adventures.
The Beachcomber Hotel
Comfortable mid-range hotel-style accommodation just across from the Tāhunanui Recreation Reserve. Choose from a range of studio rooms and units to suit your budget. Facilities include a heated pool and free WiFi.
Oceanview Apartment
For a hassle-free luxury stay, check out the resort-style Oceanview Apartment (sleeps 3), complete with 3 swimming pools, a spa pool, and a fitness room at your disposal. This apartment comes with everything you might need for a relaxing and comfortable stay near the beach, including views, beds made and all linen supplied and pantry basics.
6 Top Places To Eat At Tāhunanui Beach
Tāhunanui boasts a great selection of restaurants, bars and cafes within short walking distance from the beach. It is also worth noting there are a variety of concerts, events and fairs passing through Tāhunanui over the summer months, which provide additional pop-up eateries and varied options for all.
Beach Cafe and Bar. Located right by the beach just behind the sand dunes, the Beach Café and Bar offers convenient, relaxed dining with outdoor seating and delicious food. Expect to find plenty of the usual options to choose from, including all-day breakfasts, burgers and salads.
The Sands Fish and Chip Shop. The perfect spot to get your fish and chips to eat down on the beach. The Sands offers a good range of the usual fish and chip fare, including burgers, hot chips, a variety of fish and seafood meals. Gluten-free options are available!
Get Real Fruit Ice Cream Cart. Stop by the Real Fruit Icecream cart on Bisely Walk for a delicious fruit combo of your choice – pick from Mixed Berry, Strawberry, Raspberry, Boysenberry, Banana and Lemon. The perfect way to cool down on a hot summer's day!
The Sands Brewery Bar & Kitchen. Located directly opposite Nelson's famous Tāhunanui Beach on Rocks Road, Sands Brewery Bar & Kitchen provides a relaxed brewery-themed bar and restaurant. Open all day, expect to find a good range of breakfast, lunch and dinner foods to suit all tastes and budgets.
Sprig + Fern Tavern, Tahuna. Famous for its craft beers and ciders, the Sprig + Fern has a great menu with all of your favourites, including pizza and burgers – don't miss the tasting paddles if a tasty selection is what you are after!
Catch 22 Cafe & Bar. Open 7 days a week from 8 am until 11 pm-ish, the Catch 22 Café and Bar serves everything from muffins to pizzas, coffees to cocktails. The perfect little stop for a chance to refuel when you are out and about at Tāhunanui.
With mild temperatures in winter and higher than average sunshine hours right through the year, Nelson is not just a summer destination – it's the perfect holiday destination all year round! When planning your trip to Nelson don't forget to incorporate some time out on the famous Great Taste Trail – more information here.