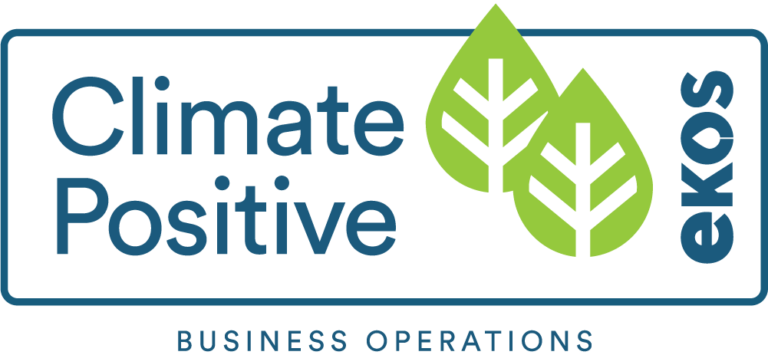 EKOS Certified Climate Positive Business Operations
The Gentle Cycling Company is proud to be certified "Climate positive business operations" with Ekos. We have measured and offset 120% of our carbon footprint (6.69 tonnes of CO2) with certified carbon credits. These offsets grow and protect forests in New Zealand and the Pacific Islands and help to deliver climate resilience, waterways protection, erosion control, biodiversity conservation and community economic development. www.ekos.co.nz Certificate # 40000449
We were the first cycle tourism operator in New Zealand, with ekos, to be climate positive. Interestingly, our largest chunk of carbon emissions (63%) are from operating our vehicle fleet. We took active steps back in October 2019 to upgrade to a newer petrol van that was more comfortable for our customers, more economic to run and also more gentle on the environment. Our aspirational goal is to upgrade to fully electric vehicles, but the cost is prohibitive at this time.
Many of you will have experienced testing your bikes for your trip in our carpark surrounded by native trees. We're fortunate to share our lovely cycle base in Stoke with the Nikau Gardens (native plant nursery) here on Nayland Road, so close to the cycle trails.
We're currently researching how you can actively show your love for Aotearoa by planting a forest of the future when you cycle with us. Read more about this initiative with Tourism New Zealand and Trees that Count.
Cycle And Sail For Sustainability
We're proud to be part of the Nelson Tasman Zero Carbon Itinerary; a four day tour of the Top of the South, using our E-bikes and other like minded operators who offset our carbon footprint. We work with Ekos who are planting native trees in areas such as the Rameka Forest in Golden Bay to offset the carbon released by our vehicles and electricity usage. Whilst we appreciate that the vast majority of commodities and services contribute to the issue of climate change, we agree with Ekos that carbon offsetting is the right thing to do. Read more here.
Not only do we offset 120% of the carbon we release, but we follow the 4 R's; Rethink, Reduce, Reuse and Recycle. For example, our E-bikes are limited to assist riders up to 30km/h so excess power is not wasted rushing people along the Great Taste Trail. We happily fill water bottles before departure from our base, reuse maps where appropriate and share bag shuttling services with another operator. Nobody is perfect and there is a long way to go globally, but we are proud to be taking action as best we can.
Gentle Cycling Company Luxury Cycle & Sail Tour
As part of our ongoing commitment to review the services we provide, we have teamed up with another Zero Carbon operator to create our new Luxury Cycle and Sail Tour. This entails a 3 day guided E-bike tour from Nelson to Kaiteriteri via the finest art galleries, wineries and restaurants where you will immerse yourself in many of the delights of the Great Taste Trail. You will then enjoy a rest day at Kimi Ora Eco Retreat to recharge your batteries in the spa and pool, before setting sail by luxury yacht into the iconic Abel Tasman National Park. Your personal chef creates stunning meals on board whilst you're paddle boarding, fishing, kayaking, relaxing and exploring islands, bush and bays. The yacht completes its three day voyage by sailing back into Nelson where you will be transferred on to your next adventure.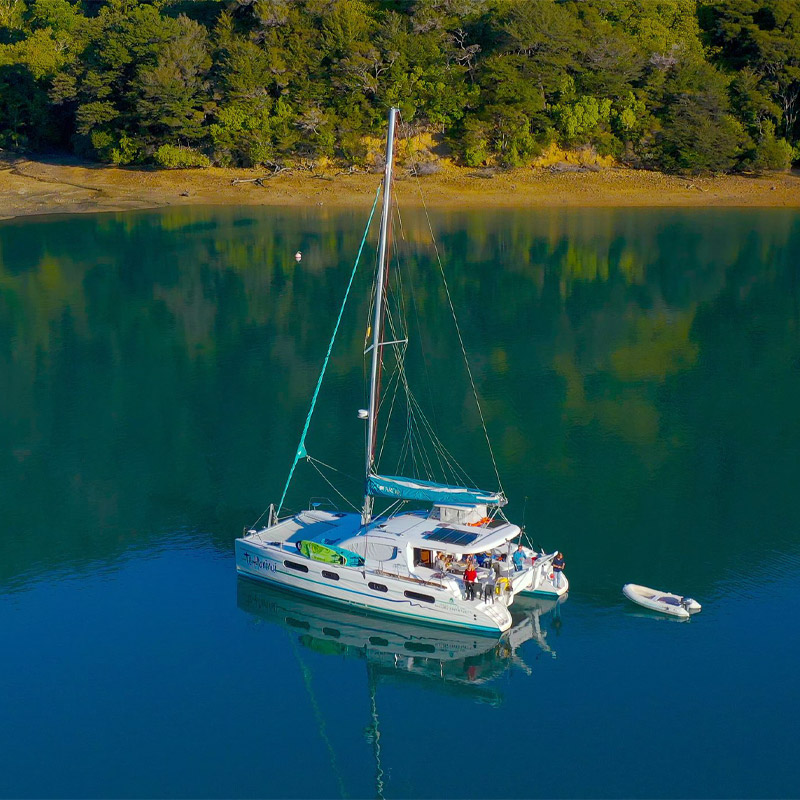 The tour comprises of 7 days / 6 nights, with most food and some drinks provided and personalised itineraries based upon the interests of the group. It has been designed for groups of 4, 6 or 8 people – ideally couples – in order to accommodate rooming on the yacht.
Call 0800 932 453 or email info@gentlecycling.co.nz to find out more about the Luxury Cycle & Sail Tour.