What The Gentle Cycling Company Is All About
Gentle Cycling Company is the name and gentle cycling is our game. Our mantra is to encourage our cyclists to regularly stop and explore natural, arty and tasty places whilst touring in an eco-friendly way on two wheels. The majority of our tours are based on and around Nelson's Great Taste Trail, a mostly flat and cruisy cycle trail with the odd hill here and there. We offer a carefully curated selection single day and multiday tours with guided and self guided options available. The Gentle Cycling Company also provides affordable bike hire with electric bike options for those who prefer this method of travel.
Although Nelson does have plenty of cycling options, some suited to bikes with a bit more suspension, chunky tyres and trails with more rugged terrain. We're not aiming towards full-blown down hill full-suspension extreme cycling, but we have refreshed our bike inventory and invested in some bikes suited to mountain biking – gentle mountain biking!
Rocking With Rocky
Cycling isn't just our business, as a family, we enjoy a healthy dose of flat cruisy trails, with a sprinkling of beginner and intermediate mountain bike trails added to spice things up. Our dog Rocky is keen to join in on all family adventures.
Of course dogs require regular exercise and love to run, but mixing dogs and cycling adventures can go very wrong. If bike meets dog at high speed or dog sees a cat to chase, the cycle ride quickly becomes stressful. If you have a canine friend and want to go
riding safely, then we have a solution for you!
Introducing our doggy trailer, large enough to fit small or medium sized dogs. Equipped with rain cover and fitted lead to prevent escapes, this is great fun for dog and family adventures. Our Rocky is comfortable standing, sitting and laying down at different times during our trips.
We often stop to let him run around, take a drink and go to the toilet. Rather than making him running behind our bikes, we choose beaches, bush and paddocks to stop and let him explore and get his own exercise in.
Out On The Trail
Many of our multi-day tours pass along the Great taste Trail and into Kaiteriteri, which happens to have a great mountain bike park with a maze of different trails to explore. This is the entrance to the mountain bike park as you head into Kaiteriteri on the Great taste Trail:
We love staying at our favourite Kaiteriteri accommodation – Kimi Ora Eco Resort – which is literally surrounded by the Kaiteriteri mountain bike park and trails of differing grades. So heaps of fun for riders of all ages and abilities:
There are two entrances to the Kaiteriteri mountain bike park. One has a car park and toilet situated right next to it for easy access for those who want to drive straight there (daily shuttle available).
The trails wind through beautiful bush so there are plenty of birds to see thanks to many years of trapping and weed eradication in the area.
Cleaning Up The Trail
Most of Nelson's roads and trails are clear of rubbish and debris. Flooding events, wind and ravenous birds conspire to create litter, so we like to do our bit to keep things tidy. As a company we have organised clean up operations in the past which are gladly supported by many people from the cycle tour industry. Many willing people give up their time and energy to help keep our cycleways tidy and free from plastic pollution.
We always include the whole family and make sure to check the surrounding beach and bush. Ending the day at our favourite country pub, The Honest Lawyer is always a a favourite – where we eat, drink and play chess!
We even bring Rocky in his trailer to the Tahunanui dog beach – an awesome place to take dogs when in the area.
Our Bikes
Like a Shepherd cares for his/her sheep, we feed (charge), wash and maintain our precious flock of bikes each day. In order to keep our herd at peak performance, we have upgraded our older wheels for shiny new bicycles with cutting edge technology. We have done this to maximise efficiency, which reduces our carbon footprint, as well as taking advantage of contemporary, comfort design.
We have decided to make the transition to Sinch bikes – NZ owned and designed by Kiwis with a wealth of knowledge and experience. You can read more about their story here. Our Sinch bikes not only look stunning in silver, but their low step design makes for easier mounting and dismounting. They also boast new and efficient battery / motor systems which have a range of up to 150km of gentle cycling!
We have also recently added some E-mountain bikes to our fleet. These are hard tail Avanti Montari E-sport mountain bikes.
These bikes are comfortable with smooth and powerful Shimano mid-drive motors. E-bikes make the uphill sections so much easier so you can access more of the downhill runs that twist and turn through the lush native bush and forest.
Whilst people enjoy our comfortable and well powered touring bikes, many of us prefer the geometry of a mountain bike with arms out wide and the option to go into more rugged terrain.
However, we are still the Gentle Cycling Company and the focus is still on cruisy cycle touring. But these bikes provide us and our cyclists with the option to have some fun on more remote trails on Rabbit Island, in Kaiteriteri mountain bike park and a few other places that are a step up from the Great Taste Trail. So get in touch if you'd like to plan a tour with some chunky wheels and a motor!
Cycling For Enjoyment, Independence And Mobility
Cycling enables many things for those of us who are passionate about exploring on two wheels; fitness, reducing my carbon footprint and enjoyment are three
that instantly spring to mind. We at The Gentle Cycling Company were proud to support a great initiative with the Red cross and our friends at Wheelie Fantastic. A group of former refugees from Myanmar who fled their homes through the jungle and into Thailand to escape violence and insecurity. Nelson is now their home and they are all keen to connect with and contribute to our wonderful community in the sunshine capital of NZ.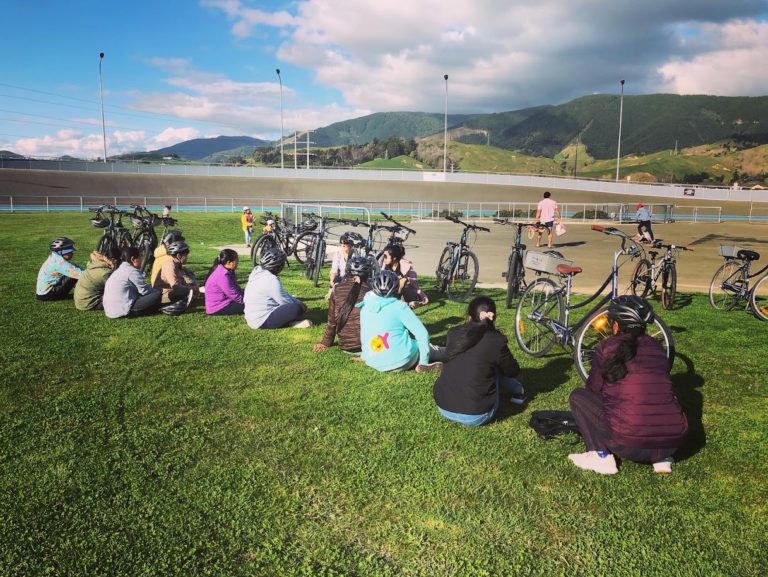 Whilst Nelson is a compact city, mobility was an issue for these ladies. We therefore provided a day of cycling proficiency and confidence at Saxton Velodrome and the mock road network there.
Most had little or no cycling experience, but were quick to gain skills in this safe and sunny cycling zone.
We also made a detour to the nearby Bike Hub. This is a great initiative where 15 locals donate their time and skills to service and repair used bicycles and supply them to those in need. They even supplied these marvelous ladies with the means to
get about town.
Being a part of this event was great fun and ended up with a shared kai in true Kiwi style. We found it to be a great reminder of the importance of cycling in providing mobility and independence. We look forward to seeing these friendly faces around town as they enrich our increasingly multi-cultural society.
Film Shoot Fun!
We at The Gentle Cycling Company were privileged to be asked to provide bikes and assistance for the Nelson location shoot for Tourism NZ who commissioned a promotional video filmed at various locations around the country.
The Spooners Tunnel and Wai-iti river were perfect sites to showcase cyclists enjoying the Great Taste Trail on our touring bikes and Sinch E-bikes.
Cycle touring is a great way to explore the Nelson region even in winter months and availability for the best accommodation is plentiful and well priced.